Workflow & Notification Engine (WNE) is one of the nine core capabilities that power the CIPAce™ Engine Platform. It drives productivity through your business processes by automating multi-party/interdepartmental repeated activities.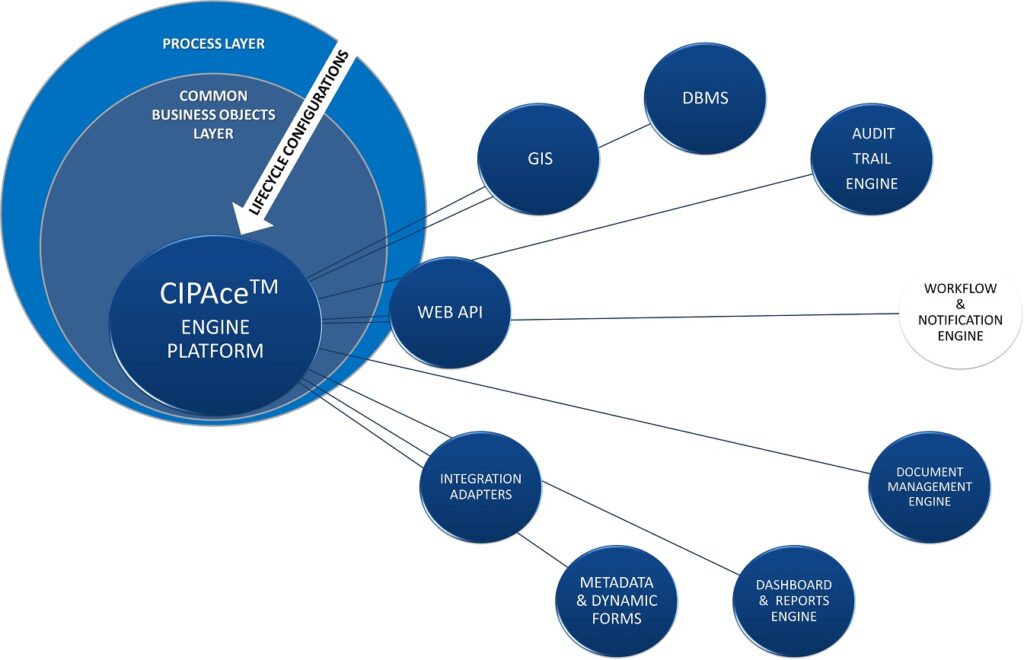 From a user's perspective, WNE: 1) starts and accepts parameters for a given workflow; 2) manages routing and re-routing; 3) processes files through Document Management Engine; 4) invokes WEB API (e.g., eSignatures, eNotary); 5) sends notices that appear on Dashboards of downstream persons; and 6) ends the workflow. CIPAce™ checks for the user's entry of required data before enabling the start of a given workflow. Workflow Log records the activity and data transformations along each stage.
Scope of Business Processes
CIPPlanner works with customers to apply workflows to repeated tasks that manage a range of Common Business Objects. These include, but are not limited to:
Proposals
Contracts
RFIs
Purchase orders
Cost estimates
Project scoping
Budgets
Funding
Solicitations
Invoices
Design and construction submittals
Change orders
Etc.
Configured workflows add discipline and process standardization to internal operations. In addition, customers can use workflow summaries and transaction-level data to perform audits and identify process improvements.
Workflow Communications
Workflows can range from simple to complex designs. To ensure sufficient communications across the organization, CIPAce™ Workflow & Notification Engine features email alerts to both reviewers/approvers as well as other parties copied on emails. Participants can add comments to their processing of a given workflow.
Workflow Design
Workflow & Notification Engine features a Web-based graphical user interface (GUI) tool for system administrators to design workflows. The ability to interact with drag-and-drop GUI controls means that workflow design/redesign happens with in real-time, without the involvement of call center support or software engineers.

The design of custom workflows for CIPAce™ modules involves defining:
Activity Name
Participant Type(s)
Default Participant(s)
Routing (i.e., sequence of Participants), conditional routing, and re-routing
Application with which the workflow is associated
eSignature, if applicable, which Participant Types must do so
eNotary, if a document requires notarization
Triggers that result in email alerts to workflow participants
Contents in email alerts with customizable action links, business data, and documents.
Along with the user-friendly design tool, CIPPlanner also helps customers develop workflow templates that reflect best practices during system implementation. These templates provide an optional starting point from which to complete the workflow designs.
Developed by CIPPlanner Corporation, CIPAce™ is a powerful business process automation and application development platform built on top of state-of-the-art software technologies.
---