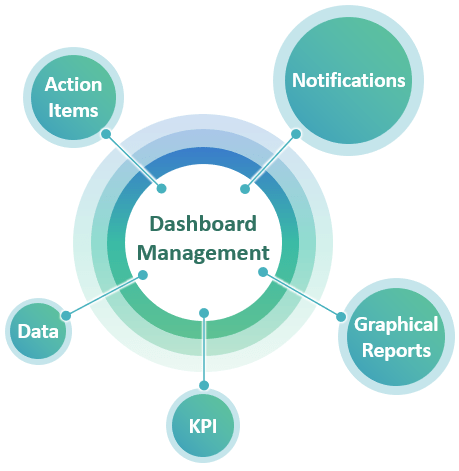 CIPAce™ Portal and Dashboard Management functions enable users to configure their dashboard display at their own preferences within a single screen upon login. These functions allow regular users to perform daily tasks more effectively without spending time to search for the information critical to their work.
Managers can configure executive dashboards to get an overview of projects that are important and/or underperforming so that they can timely take remediation actions.
Each user or user group can set up individual landing page(s) to consolidate the data, graphic reports, daily tasks, and frequently accessed functionalities based on personalized needs. Dashboard also provides a "Health Check" of performance measures at a glance using color coded graphics and buttons with drill down capabilities.
Users can also configure his own portal and dashboards via a web-based designer with an easy-to-use graphical interface. The designer supports configuration of data table columns, sorting order of records, graphics reports, layout, action items, frequently accessed links, and much more.
Combining CIPAce™ enterprise platform and CIPPlanner team's deep domain expertise and insight into industry best practices, CIPPlanner offers multiple industry leading solutions for both government agencies and private enterprises.
---