We do more than offer SaaS. We are SaaS!
SaaS can help your organization when managing a several hundred-million-dollar capital project or several billion-dollar capital program. Examples are: A government agency responsible for public infrastructure – roads, bridges, water systems, etc. A utility provider. Owner and operator facilities (e.g., schools, libraries, police stations, etc.). An airport, or port authority or transit system, or public-private partnership . Or assets in the order of tens of millions of dollar.
To optimize the organization's execution, support layers of decisions, facilitate myriad transactions, and/or improve the quality of data management, you are considering an array of information system options. Options that include on-premise custom-built solutions. Procurement of and on-premise systems integration of a third-party solution. Outsourcing the entire IT operation to a facility management organizations, equipped to implement its proprietary solution. Or implement a Software as a Software (SaaS) solution. You have heard about the latter, SaaS, but are unsure about this applications delivery method and whether you can trust it to sufficiently manage your enterprise requirements. Beyond that, how to think about potential SaaS providers in your industry domain.
Our Pledge
For over two decades, CIPPlanner has been a pioneer in SaaS computing solutions for capital owners and managers. Our CIPAce™ platform has managed over $250 billion in capital. We advocate for SaaS and welcome the opportunity to share our perspective on this delivery method. Our familiarity with this technology space is such that, if our solution suite does not fit your business processes or use cases, we are committed to help you find the right solution, Our nation needs deployment and management of reliable infrastructure. Citizens are relying on us to work together to do just that.
SaaS at a Glance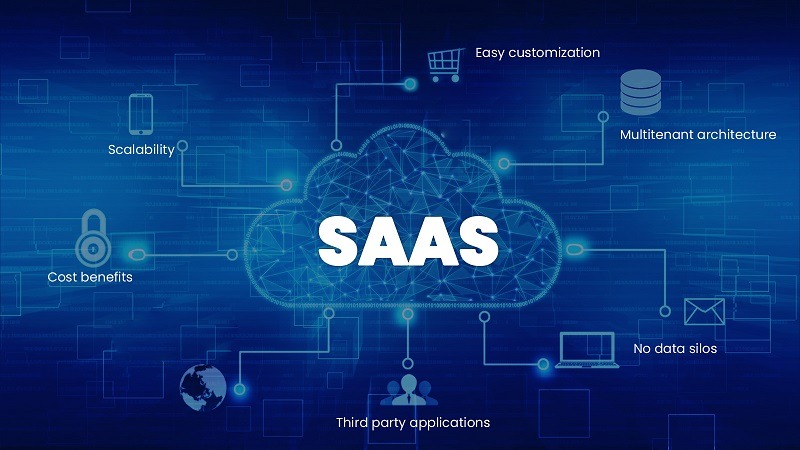 Software as a Service or SaaS is a cloud-based computing approach that place the heavy demands of enterprise applications on remote servers, managed by a third-party provider. The core operations of the application – data management, processing, computer resources – serve more than one customer (i.e., multi-tenant) within a partitioned environment. Tenants or customers purchase computing resources on a subscription basis (i.e., pay-as-you-go) and access the specified resources via wide area network connections that upload/download content through web browsers and/or mobile applications. While some see SaaS as a reconstitution of legacy systems of the 1970s, there are stark improvements on that model. Those legacy systems ran on mainframe machines that end-users accessed via dumb terminals (i.e., monitors with few processing capabilities). SaaS leverages multi-layered capacity. Powerful server (clusters), distributed computing, middleware (e.g., Web APIs that allow different applications to speak to each); and smart end-user or client environments such as browsers that run JavaScript and manage local resources.
Why SaaS?
The table below offers a side-by-side comparison of SaaS versus a typical on-premise solution:
| | | |
| --- | --- | --- |
| Consideration | On-Premise | SaaS |
| Control | Highest level of control over features and functions. | Some level of configured solution. On the low-end, setup/user options. Highly configured systems adapt well to business processes. |
| Scalability | Higher marginal cost to scale by "X" factors of computing resources. | Shared scalability enables lower marginal cost and faster execution. |
| Security | Costly security overhead from server room camera and access to software. Greater vulnerability to DoS and other malicious attacks. | Cost of security shared by tenants. Hosting environments that specialize in these areas are more equipped to secure networks. |
| IT Resources | Requires larger IT staff and greater human resources costs. | Significantly lower IT staffing cost. |
| Capital Investment | Development cost in term of IT staff and physical computing resources. | Modest up-front expense to implement an off-the-shelf or configured solution. |
| Availability | Backup and recovery as well as disaster recovery are more complicated given the necessary computing resources required for failsafe architecture. | Robust, agile resources – through secondary data centers, detection software/methods, and/or services such as Azure – ease availability during period of stress on the computing environment. |
| Transferability | Considerable capital investment means holding onto legacy systems well beyond their optimal use. | Upgrades and complete transfers to a new SaaS are more efficient. |
Can I trust my enterprise to SaaS?
SaaS is well beyond a conceptual debate; currently reshaping the computing landscape in exciting ways. Consider:
Ninety-nine percent of companies will be using one or more SaaS solutions by the end of 2021 (ZIPPIA, 4/2022)
North America is the most mature SaaS market in terms of adoption (MarketsandMarkets, 2020).
Ninety-three percent of CIOs are adopting or planning to adopt cloud SaaS (Deloitte, 2020).
Why CIPAce™ ?
SaaS solutions are not monolithic and require organizations to inspect each provider on the merits of its approach to cloud-based computing*. We are committed to offering the highest value for our customers. In an article published by CIO Review, Gary Gorson, then Chief Technology Officer at Lake County, IL, outlined challenges/risks associated with SaaS computing. So, how does CIPPlanner stacks up against Gorson's concerns?
| | | |
| --- | --- | --- |
| Challenge/Risks | Summary | CIPPlanner as Enterprise SaaS Provider |
| Forced Updates | Many providers of multi-tenant SaaS solutions "dictate a strict upgrade policy". | CIPPlanner does not impose strict upgrade requirements. Customer-specific implementations leave our users with greater latitude to time their upgrades. We certainly encourage organizations to stay as up-to-date as possible to leverage feature/function innovations, but our customers are in the driver's seat. Note, CIPPlanner averages two major version releases annually and three or four minor releases. |
| Limited Customizations | Customizing SaaS application can be expensive. | Our Off-the-Shelf (OTS) solution of CIPAce™ incorporates design, architecture, Integration Adapters, and Web API standards that meet the lion share of customers. However, we offer highly configurable solutions at reasonable price-points, implemented through accelerated Agile/Sprint methodology. Our robust OTS solution is powerful. However, if needed CIPAce™ offer many options for customization both during implementation and later by customers' system administrators. |
| Data Outside the Organization | Data stored outside the organization's premises. | CIPAce™, our flagship SaaS solution does require offsite data manage. However, as a general and subject to rigorous Service Level Agreements (SLAs) with out customers, we ensure secure, reliable, and available data solutions to meet daily, backup and recovery, and disaster recovery requirements. |
| Staff Impact | SaaS often culminates in organizations eliminating infrastructure components, IT staff, or both in order to achieve optimal return on Investment (ROI). | CIPPlanner implementations are value-priced, giving customers greater latitude in decisions related to legacy infrastructure and staffing. Often, our solutions become part of an organization's tandem solutions, where on-premise systems (e.g., financial) remain in-place. |
| Interfacing | Organizations must consider how the SaaS solution integrates with legacy systems. | We have a track record of successful integration of SaaS solutions with legacy systems. Our implementation approach brings IT and domain experts to work peer-to-peer with a customer's staff to work out these issues. We have 100% record of achieving effective integration since the first CIPAce™ project. |
| Connectivity | SaaS often requires additional bandwidth and redundant internet connections in order to achieve acceptable performance. | We approach each implementation on a case-by-case basis. Performance is a central part of our contracts. Often, our customers have sufficient capacity. Even when this is not the case, a customer can add bandwidth capacity and still achieve lower total delivered cost. |
In addition to Gorson's factors, we bring exceptional value as a SaaS provider given CIPAce™ is our bread and butter. Every CIPPlanner works to maximize this suite of enterprise solutions. Further, we bring IT and domain experts to each implementation project.
*Source: https://government.cioreview.com/cxoinsight/opportunities-and-challenges-of-saas-in-the-government-sector-nid-12941-cid-30.html