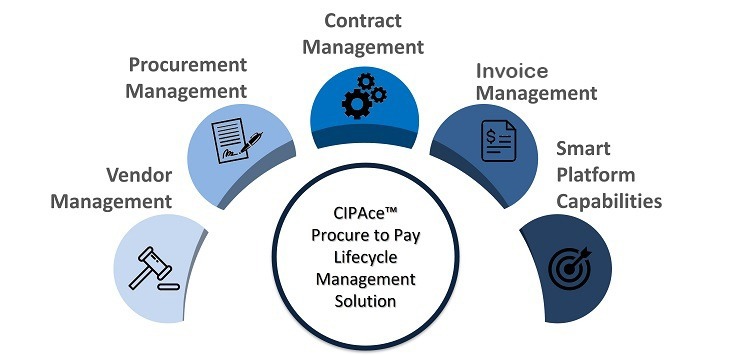 Procure to Pay Lifecycle Management Solution
CIPAce™ Procure to Pay Process Management solution is one of the integrated suites of infrastructure development solutions powered by the CIPAce™ cloud platform.
Developed based on a flexible, extensible, and interoperable system architecture, this solution can help organizations effectively manage and automate key activities in procurement lifecycle.
Activities include: request intake, purchase order management, solicitation management, public bidding, vendor selection & award, contract execution, contract administration, change orders, electronic invoice processing, close out process, and more.
The solution is equipped with powerful Project Financial Management features that tracks and classifies cost estimate, approved budget, encumbrance, and actual costs by projects, funds, vendors, and any breakdown structure desired.
Comparison among financial metrics facilitate organizations gauge financial health of projects and enforce budgetary control. The solution comes with pre-configured industry standard forms, fields, and templates out-of-box. Customers can tailor their solutions using the system's powerful configuration tools to customize forms, fields, data relationships, tables, workflows, access control, automatic alerts, and various types of templates.
About CIPPlanner Corporation
Founded in 2000 in the heart of Silicon Valley, CIPPlanner Corporation offers a comprehensive Capital Improvement Program (CIP) Management platform for both public and private sectors. CIPAce™ enterprise platform is serving all sizes organizations from Fortune 100 companies to state and local government, utilities, and small businesses with versatile deployment options and a wide variety of solutions for different industries that will sure fit your organization's needs.
With two-decades long persistence and progressive enhancements, today more than $250 billion of capital projects are under the management of CIPAce™. Leveraging our leading position in capital improvement program management within the marketplace, we have successfully launched and implemented procure to pay process management solution to provide a more comprehensive, end-to-end solution platform to our enterprise clients.
With more than 90% of our customers in the public sector, the flexibility, configurability and scalability powered by the CIPAce™ architecture have enabled us to not only meet our customers' unique business requirements, but more importantly grow with the evolving and ever-changing operating environment. We have since committed tremendous investments and tireless effort in transforming the application into a commercial-off-the-shelf software product.
CIPAce™ Procure to Pay Lifecycle Management solution is perfect for organizations in need of a lightweight yet effective system to manage procurement data and processes.