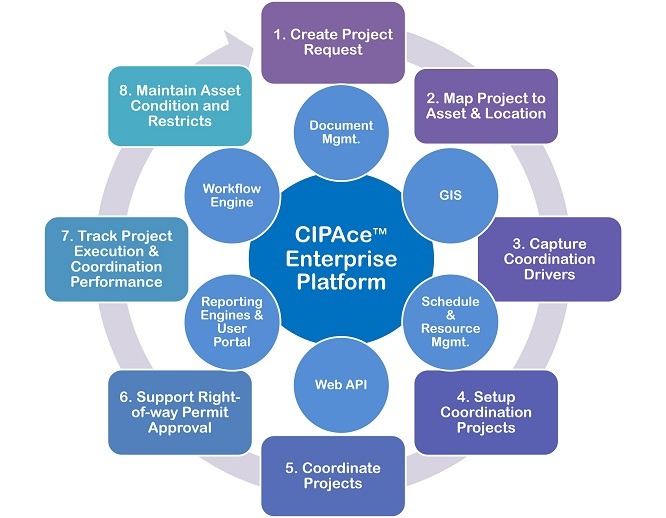 CIPAce™ Geospatial Right-of-Way Solution
CIPAce™ Geospatial Right-of-Way Project Coordination Solution is designed to facilitate state government projects schedule optimization among interdependent projects within proximity based on geospatial data.
Utilizing project geospatial data, project schedule, and restrictions tracked by the GIS component, the solution can automatically identify conflicts and opportunities for coordination.
It's also equipped with powerful tools for conflict resolution and schedule optimization to minimize disruptions to businesses and the public during project execution, eliminate waste of infrastructure investment in redundant project components, and speed up project delivery.
About CIPPlanner Corporation
Founded in 2000 in the heart of Silicon Valley, CIPPlanner Corporation offers a comprehensive Capital Improvement Program (CIP) Management platform for both public and private sectors. CIPAce™ enterprise platform is serving all sizes organizations from Fortune 100 companies to state and local government, utilities, and small businesses with versatile deployment options and a wide variety of solutions for different industries that will sure fit your organization's needs.
With two-decades long persistence and progressive enhancements, today more than $250 billion of capital projects are under the management of CIPAce™. Leveraging our leading position in capital improvement program management within the marketplace, we have successfully launched and implemented geospatial right of way project coordination solution designed to facilitate state government projects, permit conflict management, as well as project schedule optimization among interdependent programs within proximity, based on geospatial data.
With more than 90% of our customers in the public sector, the flexibility, configurability and scalability powered by the CIPAce™ architecture have enabled us to not only meet our customers' unique business requirements, but more importantly grow with the evolving and ever-changing operating environment. We have since committed tremendous investments and tireless effort in transforming the application into a commercial-off-the-shelf software product.
CIPPlanner maintains its leading position in the marketplace for Capital Project and Program Management by continued collaboration with existing and potential customers and by supporting numerous organizations in their efforts to implement cost-effective software solutions and improve the management of capital projects and programs with a comprehensive lifecycle approach.
CIPAce™ Geospatial Right-of-Way Project Coordination Solution takes project coordination and schedule optimization to the next level.