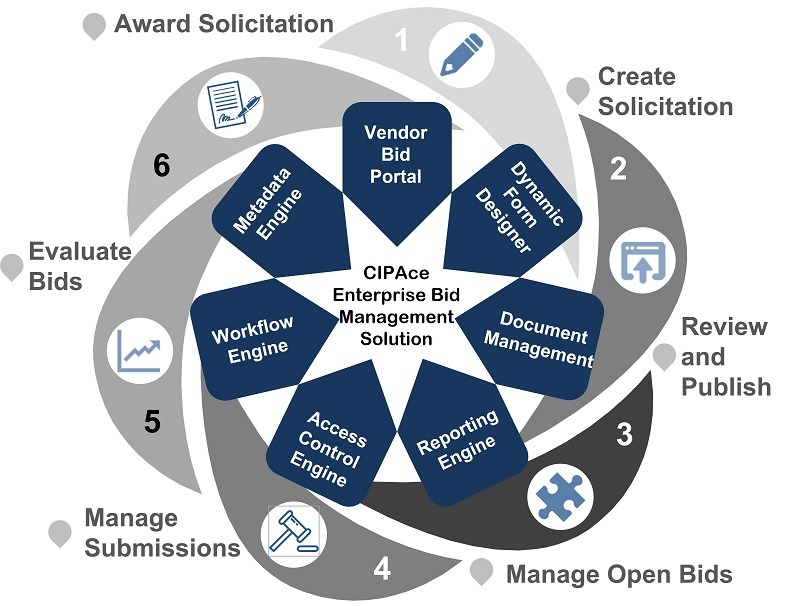 Enterprise Bid Management Software Solution
The CIPAce™ Enterprise Bid Management Software Solution delivers a comprehensive and effective system for managing bid processes from bid package preparation, bid advertisement, to bid response submission, bid evaluation, and bid award. Internal stakeholders can work collaboratively to develop solicitation packages via automated workflow. Once approved, solicitation can be published to outside vendors for bidding.
The solution not only manages the entire process following the procurement lifecycle from bid package preparation to bid award, but also provides a full spectrum of features in the The solution comes with an optional public vendor portal to facilitate various steps from vendor registrations, bid opportunity search, to subscribe for bid notifications, submit request-for-clarifications, and electronic bid submission. Bid submissions can be evaluated by evaluators using the Bid Ranking component with support for multi-phase ranking. This powerful and versatile solution has enabled numerous public agencies throughout the United States to streamline their rather complex and often cumbersome procurement process with much improved quality and efficiency as well as enhanced coordination and collaboration among departments and participants.
About CIPPlanner Corporation
CIPPlanner Corporation offers a comprehensive Capital Improvement Program (CIP) Management platform for both public and private sectors. CIPAce™ enterprise platform is serving all sizes organizations from Fortune 100 companies to state and local government, utilities, and small businesses with versatile deployment options and a wide variety of solutions for different industries that will sure fit your organization's needs.
CIPPlanner maintains its leading position in the marketplace for Capital Project and Program Management by continued collaboration with existing and potential customers and by supporting numerous organizations in their efforts to implement cost-effective software solutions and improve the management of capital projects and programs with a comprehensive lifecycle approach.
With two-decades long persistence and progressive enhancements, today more than $250 billion of capital projects are under the management of CIPAce™. Leveraging our leading position in capital improvement program management within the marketplace, we have successfully launched and implemented new solutions to provide a more comprehensive, end-to-end solution platform to our enterprise clients.
CIPAce™ Bid Management is a dedicated procurement vehicle for managing solicitations and bids.