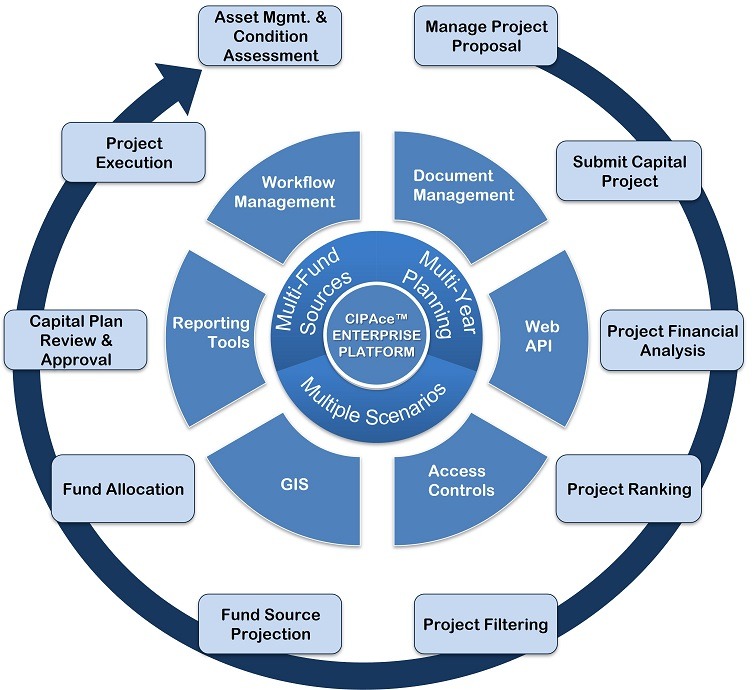 CIPAce™ Capital Planning and Budgeting Solution
CIPAce™ Capital Planning and Budgeting solution provides powerful tools for optimizing an organization's capital investment plans to fulfill the organization's strategic vision.
Based on years of development effort and field proven best-Based on years of development effort and field proven best practices, the solution features sophisticated template-driven financial modeling and projections. Both upfront project capital budgeting financial analysis and ongoing cash flow projection are supported.
The solution's long-range planning has integrated spending curve support that enables cost distribution to multiple fiscal years based on pre-configured and user-defined curves. Multiple Scenario Analysis can be used to conduct what-if scenario analysis from the entire portfolio down to the individual project level.The solution is equipped with comprehensive budget management tools for managing the life cycle of budget records from initiation, authorization, augmentation/ transfers to retirement.
About CIPPlanner Corporation
CIPPlanner develops business process automation software solutions and a business service platform for public and private organizations to help optimize capital investments and maintain a strong infrastructure. Its capital improvement projects solution seamlessly unites the management efforts and expertise from multiple disciplines and functions under a best practice enterprise management framework.
With more than 90% of our customers in the public sector, the flexibility, configurability and scalability powered by the CIPAce™ architecture have enabled us to not only meet our customers' unique business requirements, but more importantly grow with the evolving and ever-changing operating environment. We have since committed tremendous investments and tireless effort in transforming the application into a commercial-off-the-shelf software product.
CIPPlanner Corporation offers a comprehensive Capital Improvement Program (CIP) Management platform for both public and private sectors. CIPAce™ enterprise platform is serving all sizes organizations from Fortune 100 companies to state and local government, utilities, and small businesses with versatile deployment options and a wide variety of solutions for different industries that will sure fit your organization's needs.
CIPAce™ Planning and Budgeting Solution provides powerful tools for an organization to develop and optimize capital plan that aligns with the organization's strategic vision.