CIPAce™ Business Solutions
CIPAce™ is a highly configurable and scalable cloud-based enterprise grade metadata-driven, low-code business process automation software and application development platform. CIPAce™ platform is organically built on top of state-of-the-art software technologies and has been under on-going development since 2002.
CIPAce™ serves as the common foundation for all business solutions offered by CIPPlanner as illustrated in the solution diagram to the right. From public sector to private enterprises, from a traditional enterprise-hosted solution to software as a service deployment, CIPAce™ platform is most comprehensive and configurable enterprise software products in the capital infrastructure solution marketplace.
CIPAce™ Industry Solutions
With deep domain expertise and insight into industry best practices, CIPPlanner has designed and developed multiple infrastructure lifecycle management solutions on top of our organically developed CIPAce™ low-code software platform.
CIPAce™ Software Enterprise Platform provides powerful tools and fundamental application services to automate business processes. Our industry leading solutions are equipped with powerful configuration tools and templates for managing all phases in infrastructure lifecycle from planning, procurement, to execution, closeout, and maintenance.
These solutions have been adopted by a wide spectrum of clients from public to private sectors which include cities, counties, utilities, transportation agencies, and multi-national corporations.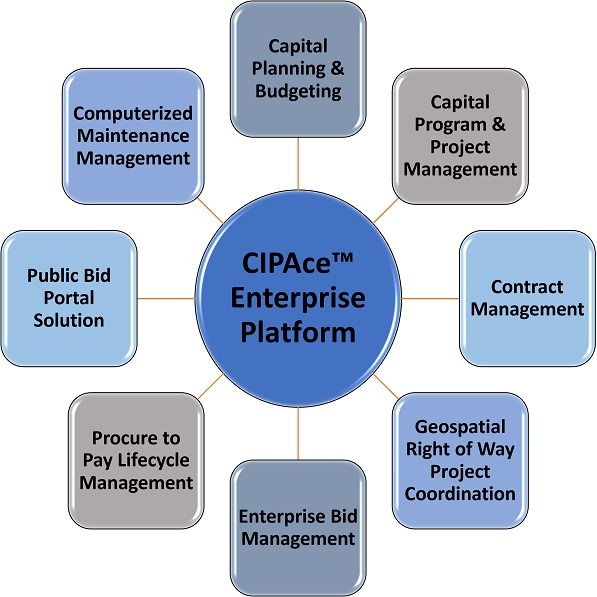 About CIPPlanner Corporation
Founded in 2000 in the heart of Silicon Valley, CIPPlanner Corporation offers a comprehensive Capital Improvement Program (CIP) Management platform for both public and private sectors. CIPAce™ enterprise platform is serving all sizes organizations from Fortune 100 companies to state and local government, utilities, and small businesses with versatile deployment options and a wide variety of solutions for different industries that will sure fit your organization's needs.
CIPPlanner maintains its leading position in the marketplace for Capital Project and Program Management by continued collaboration with existing and potential customers and by supporting numerous organizations in their efforts to implement cost-effective software solutions and improve the management of capital projects and programs with a comprehensive lifecycle approach.
With two-decades long persistence and progressive enhancements, today more than $250 billion of capital projects are under the management of CIPAce™. Leveraging our leading position in capital improvement program management within the marketplace, we have successfully launched and implemented new solutions to provide a more comprehensive, end-to-end solution platform to our enterprise clients.
CIPPlanner develops business process automation software solutions and a business service platform for public and private organizations to help optimize capital investments and maintain a strong infrastructure. Its capital improvement projects solution seamlessly unites the management efforts and expertise from multiple disciplines and functions under a best practice enterprise management framework.
With more than 90% of our customers in the public sector, the flexibility, configurability and scalability powered by the CIPAce™ architecture have enabled us to not only meet our customers' unique business requirements, but more importantly grow with the evolving and ever-changing operating environment. We have since committed tremendous investments and tireless effort in transforming the application into a commercial-off-the-shelf software product.
Combining CIPAce™ enterprise platform and CIPPlanner team's deep domain expertise and insight into industry best practices, CIPPlanner offers the most comprehensive industry leading infrastructure management solutions for both government agencies and private enterprises.
---